It sure would be nice to have a real camera again instead of using this crummy clicker on my cell phone. Last night my dad and I were en route home from a business trip in Arkansas, more than 1,100 miles driven, when we stopped at the recently unveiled Buc-ee's mega store in Madisonville. We belatedly thought it would never open: it seemed they'd been working on it for years. Now I know why: "mega" isn't a grandiose enough term to describe what this is. To explain that Buc-ee's is a chain of Texas-based gas station conveniences would be demeaning to this Madisonville wonder.
Lest anyone familiar with my jocose Buc-ee's fixation should think this another routine jest, I tell you I'm half-serious here. I was astonished. I've often been inside the spacious Gonzales store, which was impressive enough, but Madisonville is the same set-up made more bodacious.
To begin with, the main entrance is graced by a life-size Buc-ee the Beaver, for all your photo op needs. For some reason I thought a life-size Buc-ee would be, well, smaller. Never mind. There are also animatronic Indians and cowboys, eerie reminders of mobile mannequins that adorned the shooting gallery at my beloved AstroWorld. The Indian sits atop the counter, greets you with a jerky wave of his robotic arm – "Wel-come to Buc-ee's!" – and it's so deliciously politically incorrect, it made me curse the lack of video function on my antiquated cellular.
And how about the big piles of fresh-wrapped sandwiches and salads? And diligent employees in their red Buc-ee's shirts, pushing a large cart, filling it with items that have exceeded their limited shelf life.
And much more: an elderly employee with one of those sweeper machines ("Buc-ee's" scrawled awkwardly on its side in felt tip sharpie) and a younger man following close behind him with a mop, both constantly tending to the heavily traversed floors; shelves crammed full of everything Buc-ee, Texan, Girly, Generically Gimmicky, and Bible Belt Religious, yet lacking any drink mugs that were quite to my liking; a do-it-yourself Buc-ee's tag maker (encouraging the creativity of customers!); touch-screen computers for placing your own food orders, on which Dad punched in a beef barbecue sandwich, and I, a chili dog; print-out order tickets that are read over the P.A., even in the restrooms; and – OH YES – the restrooms! No enumeration could fail to include THE RESTROOMS. Fifteen-foot-high ceilings, private stalls with four walls, and all soap dispensers bearing the ubiquitous beaver logo. It is a water-closet palace that would have made a Vanderbilt flush with amazement! But then, restrooms are the most regularly touted facet of the Buc-ee's experience, as indicated on commonplace billboards you'll encounter on our main Texas arteries, with declarations such as, "Cleanest restrooms or your money back," "Your throne awaits you," and the favorite, "Restrooms so clean we leave mints in the urinals."
Finally, there are the bags of candy (mmm, chocolate-covered pecans!), always functional soda fountains, deli and bakery counters, limitless selection of jerky product, and an add-on facility named Buc-ee's Outdoors, which I did not look into but seems an outdoor center to give Wal-Mart a good boot in the ass. Finally, I guess I should mention the gas pumps. There are roughly 20 or more at the larger locations, so having to wait for fuel is an unlikelihood. I still have yet to give the car wash a spin.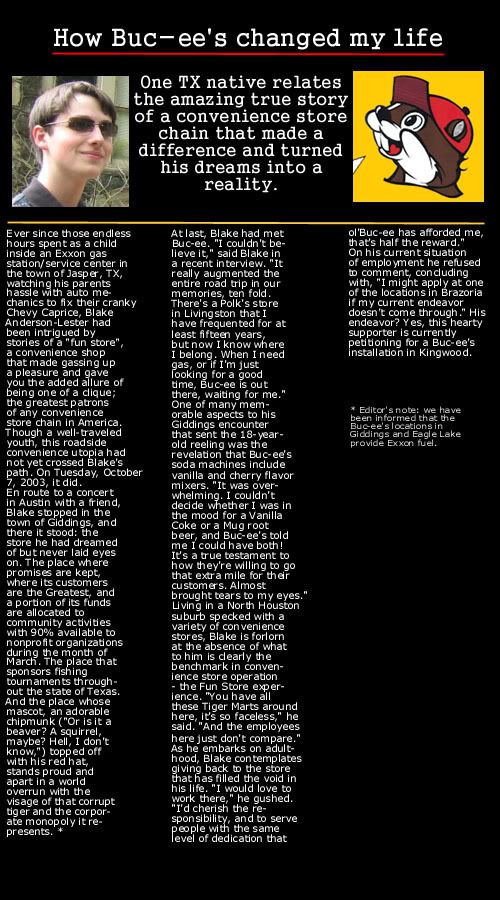 The first Buc-ee's I encountered was a little store in Giddings, in 2003. The beaver character was weirdly amusing, as well as the slogan, "Our customers are the greatest!" Since then, the chain has adopted countless catch phrases: "Some say, best jerky ever," "Have you hugged a beaver today?" and so on.
It's amusing. It has an in-joke quality that people latch onto, even though there isn't much of a punchline. The logo itself is good for grins. With its circular yellow shape, it may remind you of a certain superhero symbol. Yes, a HEROIC trademark for a convenience chain. You don't get it? Sure you do, even if you don't laugh.
At the time, I thought this an isolated phenomenon; it would remain an esoteric amusement. Years later, I see women in the Woodlands wearing pants stamped all over with Buc-ee, and everywhere the black shirts, extolling Peace, Love, and Buc-ee's. And I've noticed many vehicles bearing the same "Buc-ee's Rules!" bumper sticker as my own.
This is an object of perverse adulation and was advertised from the get-go with that in mind. It's something funny that you're meant to take for granted, like Chuck Norris. In fact, the Madisonville store contains such unmitigated awesomeness, maybe the building itself is made out of Chuck Norris. At least this burgeoning business isn't as vapid as, say, Hello Kitty. With Buc-ee's I can at least get good sustenance for my stomach and gas for my car.
Back when I wrote up a bit of tongue-in-cheek humor about my first visit to one of these stores, I had no idea the lucrative little rodent would eventually treat us to such luxurious restrooms, computer terminals, and robotic Indian greeters. Surely no one at corporate got my memo? Nah!
Link:
BUC-EE'S OFFICIAL WEBSITE

Buc-ees Owner, Beaver Aplin Talks About His Stores. 10/16/08 - More bloopers are a click away



Old Man in Outhouse @ Buc Ees in Martinsville,TX 009 - Watch more funny videos here




Buc-ee's Pilgrimage - Watch more funny videos here
Current Mood:
tired
Current Music: The Sounds